【Flexible Intensive Course】 Intelligent Agriculture: R Program in Trait Mapping and Crop Improvement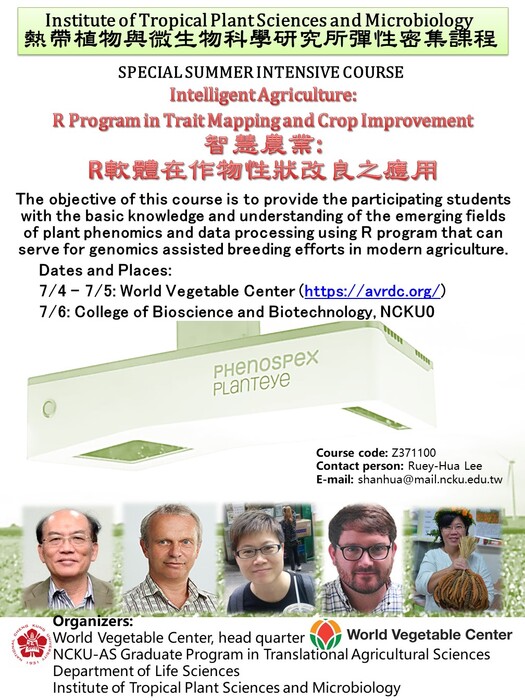 111-1 Flexible Intensive Course in summer 2022
Course Name: Intelligent Agriculture: R Program in Trait Mapping and Crop Improvement

Date: July 4-6, 2022

Deadline for registration: Before

June 28, 2022

Instructors

:Tzen-Yuh Chiang ,LEE,RUEY-HUA*、Roland Schafleitner、Derek Barchenger、YA-PING LIN

Course System Number

:Z371100

Credits

、Elective/ Required:1 Credits, Elective, Course taught in English

Places

:World Vegetable Center (July 4-5) and Biosciences and Biotechnology Building (July 6)、

Year Class

G

roup

:M/D

Contact with teacher

:Ruey-Hua Lee

E-mail: shanhua@mail.ncku.edu.tw Tel: 06-2757575 ext. 58312

Office: Room 89612, 6F, College of Bioscience and Biotechnology,
Important Notes:
This course will take place in July before 111-1 semester start. Please take the course and register officially later with the university "Registrar Division" when the Course Information & Enrollment System is open. Course information is attached with this mail. Thank you.